Practical information
This page includes most of the practical information needed for the NordPac 2022 conference.
Accomodation
NordPac 2022 suggests the hotels listed below. For booking and prices, please go to their website
Conference location
The conference will be held at Chalmers University of Technology at the department of Microtechnology and Nanoscience (called MC2), situated at Campus Johanneberg. The address to the MC2 building is Kemivagen 9, 41258. If you use public transport, there are many busses/trams that gives access to Chalmers' campus at Johanneberg.
If you use a car, there are parking spots that belong to Chalmers but still require payment either through the parking machine (using bank card), or by downloading the apps corresponding to the parking space (Parkering Göteborg, Easypark…etc). Parking places can be found at Kemivagen 4 (closest but small capacity), or Gibraltargatan Chalmers parking place (large capacity).
Access
The access to the MC2 building is possible through the Main entrance from Kemivagen 9. This is the easiest and simplest way to MC2 building. The door to the main entrance is open for everyone during the weekdays from 7h to 18h. During the weekends and after working hours, an access card is required. Please note that the main entrance to the MC2 building is situated at the 3rd floor, while the exhibition area is located at the 4th floor. Different signs will be available to show the way to the exhibition area.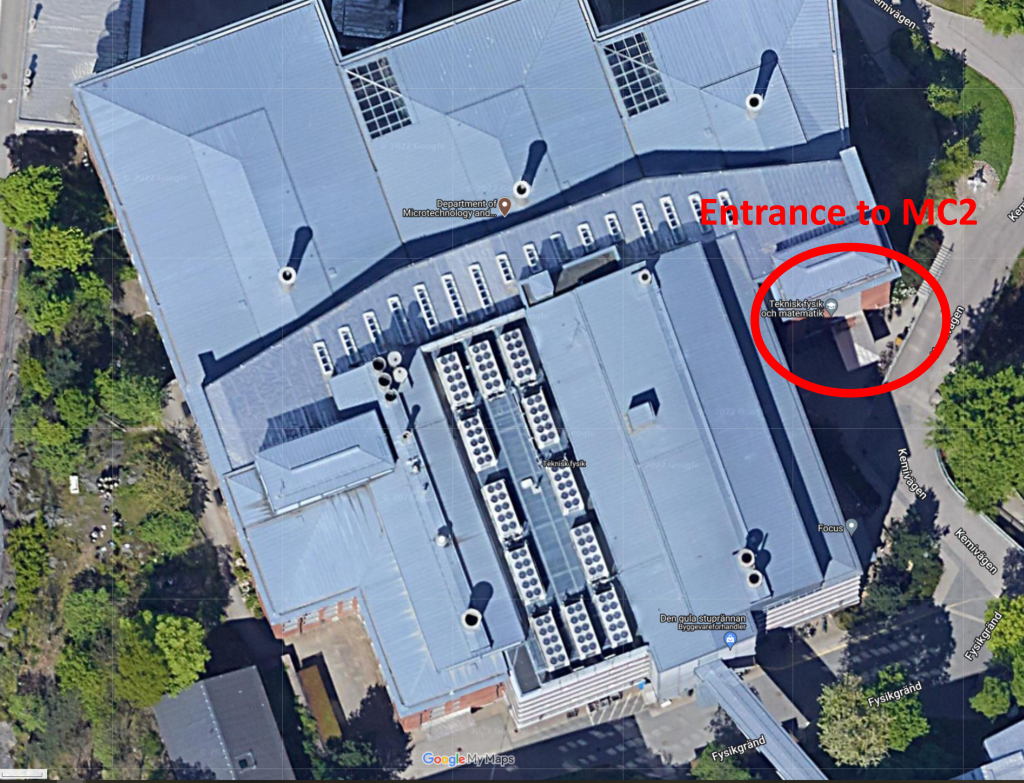 On the first day of the conference (i.e. Monday June 13th), you will be invited to register and pick up conference related materials. A registration booth will be available right at the main entrance on the 3rd floor.
Clean room tour
The MC2 department includes a state-of-the-art cleanroom facility where advanced materials and devices are developed for electronics development. The cleanroom laboratory is a facility with 1240 m2 area reserved for production and characterisation equipment. the Laboratory is also a member of Myfab, the Swedish Research Infrastructure for Micro and Nano Fabrication and is supported by several national fund program. The cleanroom tour is programmed on Wednesday 14th between 15h45 and 16h45 and everyone is welcome! Go to your conference registration and check the box for the clean room tour. 
Exhibition Materials
As an exhibitor, you have the possibility to send your exhibition materials before you arrive to Gothenburg. To do so, please send your packages to the address below:
Chalmers Tekniska Högskola AB
MC2, "NordPac Conference"
Yifeng Fu, 5A
412 96 Gothenburg
Please remember to order return shipping at the end of the conference on Tuesday as well so that your packages can be returned properly, and nothing is lost.
Main areas of interest at NordPac 2022