CALL FOR EXHIBITORS
 Download the Exhibitor Invitation here.
It is our pleasure to announce that the IMAPS Nordic & IEEE EPS Nordic 2019 Conference on Microelectronics Packaging (NordPac) will be held 11th – 13th June 2019 at Technical University of Denmark, Lyngby, Denmark. This is the second time that IMAPS Nordic Chapter and IEEE EPS Nordic Chapter jointly organise this event. The event brings together both academics, as well as industry leaders, to discuss and debate state-of-the-art and future trends in microelectronics components, packaging, integration and manufacturing technologies. NordPac provides a perfect opportunity to hear the latest news and developments in the field. So mark the dates in your calendar today!
BACKGROUND
You and your company are hereby invited to participate in the exhibition during the 2019 annual IMAPS Nordic & IEEE EPS Nordic conference held at at Technical University of Denmark, Lyngby, Denmark. The conference is designed to give maximum interaction between the delegates and the exhibitors.
The exhibition will be located in a room adjacent the main conference room and in the corridor, if needed. Coffee breaks will take place in the exhibition area.
We will offer table-top style exhibits only. You will have one draped table, two chairs, 230V power supply. You will be able to choose between a high, round table (Ø70 cm 110 cm high) or a low square table (50 cm x 140 cm 51 cm high). You are welcome to bring roll-ups and posters. We will supply walls for your posters. Price: €850!
Each exhibitor will be offered one free conference seat included in the price per "table". The conference fee includes proceedings, lunch and dinner. The person utilizing this offer must register to the conference. Up to two additional conference tickets for colleagues can be purchased at €395 per person.
Your exhibitor PR-info will be presented in the conference program. In the plenary session on Monday all exhibitors may present themselves and their products (maximum one minute each).
This is the best opportunity for you to reach the microelectronics, packaging and SMT manufacturers and users in the Nordic area.
VENUE
The exhibition hall is in the foyer located next to the main lecture room and will accommodate 10-12 exhibitors. If needed, the corridor will also be used for exhibitor space.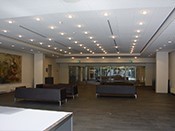 Exhibition space at Technical University Exhibition space at Technical University of Denmark. Left: At the foyer between S1 and S9. Right: Exhibition room.
REGISTRATION
We are proud to offer a new online registration solution! Go to https://www.conftool.com/nordpac2019/ to sign up and register.
Step 1: Sign up to create an account in the conftool system.
Step 2: Select "Register as a participant" in your log in profile:

Select "Exhibition table and one conference seat".
Then please remember to check the box for "Full conference". Add the name of the main person responsible for your exhibition table and any dietary requirement for this person.
After this page you will be taken to the payment page where you will be required to pay by credit card.
When you
PRACTICALITIES
To ship your items to Technical University of Denmark prior to your arrival please make the shipment out to:
Rajan Ambat
Building 425, Produktionstorvet
Department of Mechanical Engineering, Technical University of Denmark
DK 2800, Lyngby
Denmark
Make sure to use the correct import/export codes on your proforma invoice to avoid paying tax on your items. Also, make sure to notify Rajan Ambat on the arrival of your items.
About a month before the conference you should supply a one-page advertisement page for the conference program. Send a portrait layout pdf-file to exhibition@nordpac.org.
CONTACT
If you have any further questions, do not hesitate to get in touch.
For questions regarding the venue and technical issues please contact
Rajan Ambat, ram@mek.dtu.dk
For questions regarding registration issues, please contact
Daniel Nilsen Wright (exhibition@nordpac.org)
Please see www.nordpac.org for the latest updates.
Daniel Nilsen Wright
Exhibition host
exhibition@nordpac.org